Kamis, 19 April 2012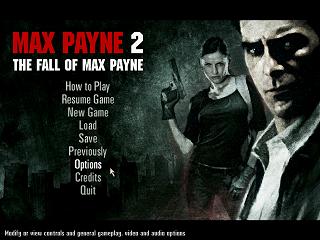 Max Payne 2: The Fall of Max Payne
Publisher: Rockstar Games
Developer: Remedy Entertainment.
Category: Shooting to the scene
Released: 14/11/2003
Game For: Adults 18 +
Gamespot reviews: 9 Points
Game released more than 7 years ago but the echo is still there to play as well as story and a worthy ending to each of us to think.
In the first Max-boy protagonist we have suffered too many wounded when his family was murdered, ruined careers, friends were purged ... However, with such sad, very
more people will become desperate and no way of deliverance But with Max, he persisted with the truth is our driving force of justice as well as his love relationship for Mona Sax.
In this version storytelling and game play remains the same as in the original image but also have some effect significant change.
You will no longer see close objects but also reduce the interactions they have to touch them when making the game more alive than ever.
Moreover, those with the slow phase, depending on how acrobatic moves when you press this will help our young Max has the movement is no less beautiful action scenes.
For example when you encounter a group of soldiers with a narrow space, with some jumps in slow motion you spoiled opened fire and enjoy the wonderful effects that the game brings.
This is the bottom line makes Max Payne dominant than the other action games.
Rockstar built halfway up the story ends when Max is in a hospital and be seen as Mona Sax died making the player feel curious and make an appeal when the story is told gradually so successful
with many choke points make you play button removed from screen to screen all to find out the story.
Sometimes stories are separated when you assume the role of Max throughout the story goes, even a few scenes we can see at once two main characters appear on a map are alternately act.
Do not know who you feel pretty inadequacy of the end game of grief, when Max our remaining permanently Mona Sax again.
Is the game too short compared to the way the story played as well as excellent if it makes you kind attention to see each dialogue, watching TV in the game ... and only takes 8 hours to complete the game.
When the "water", you will unlock a mini-game.
However, apart from "Dead Men Walking", without any real solid game sac.Ngoai also many other secrets waiting to find out in Part 2 of this article.
But overall, Max Payne 2 is still the indispensable game enthusiasts for game action.




Minimum

* CPU: 1 GHz Pentium III / Athlon or 1.2GHz Celeron or Duron
* RAM: 256 MB
* Video Card: 32 MB DirectX 9 Compatible AGP Graphics Card with HW T & L support
* Sound Card: DirectX Compatible 100%
* OS: Windows ® 98/98SE/ME/2000/XP/Vista

RECOMMENDED

* CPU: 1.4 GHz Athlon or 1.7 GHz Pentium 4, Celeron or Duron
* RAM: 512 MB
* Video Card: 64 MB DirectX 9 Compatible Graphics AGP graphics card with HW T & L support
* Sound Card: DirectX Compatible 100%
* OS: Windows ® 98/98SE/ME/2000/XP/Vista

Part 2: Cheats and secrets
In accordance with the style of Rockstar, always hidden secrets that make the player feel curiosity and discovery, following his application for collecting and synthesizing a few things from the internet for your reference
.

1/Che character display:

From the game's icon, you right-click.
Select the properties.
See the path of the game, usually in the form :: default "C: \ Program Files \ Max Payne \ maxpayne.exe".
Now let's change it as follows: "C: \ Program Files \ Max Payne \ maxpayne.exe"-developerkeys. "While playing a game, press F1 to view the information already available. Then Press [Page Up]
or [Page Down] to see.

2/Ket end the secret:

The same as above.
From the game's icon, go to properties, see the path of the game and change it as follows: "C: \ Program Files \ Max Payne \ maxpayne.exe"-developer ". In the game, while playing press F12 to
the control panel. Then go to "maxpayne_gamemode-> gm_sendendofgamemessages ();" notice of termination to view a secret game.

+ Putting aside the dialogue
Same as above, but replace it with the command parameter "-nodialog."
+ Putting aside the serial boot animation
use "-skipstartup"
+ Save the image:
To use "-screenshots", while playing press F10
+ Disable 3D graphics preload:
To use "-disable3dpreloads".
It will prevent the system crash when loading a level.
+ Windowed mode
Start the game with the command "-window".
Note: It will not be able to use 3D.

+ Part 1, Chapter 5 secret:
After the shootout in the laundry, go to the elevator, you will hear the music.
Look up and shoot him.
Max will then say: "Thank you!"
+ Part 1, Chapter 6 secrets
There are two secrets when you get to the basketball court.
Look up in the basket is a Beretta stuck in the net.
Follow the fence to the street.
Wait briefly and an SUV will pass.
Shoot it, ru up and the car will stop.
A man with a shotgun will get out and shoot you!
Be careful!
Secret tutorial room
Play out the tutorial, where you can practice shooting enemies.
Big truck jump up there and then over to the ventilation fan on the wall.
Jump up next vehicle.
From this wall, jump up the ladder and climb to the top.
Looking through the window, you will find an Ingram in the room.

3 / cheat mode
Start the game with-developer command line parameter.
In game, press F2 to open the control panel)

Immortal mode: god
Disable mode immortal: mortal
There is a complete weapon: getallweapons
Infinite ammunition: getinfiniteammo
Immortal mode for all values: coder
Go through walls: noclip
Disable mode go through walls: noclip_off
Display the frame rate: showfps
Filled gauges of bullet time: getbullettime
Baseball players: getbaseballbat
Baretta with full ammo weapon: getberetta
Dual Berettas with full ammo: getdualberetta
see the full shoot gun ammunition: getsawedshotgun
Shootgun pump with full ammunition: getpumpshotgun
Desert Eagle with full ammo: getdeserteagle
Ingram with full ammo: getingram
Dual Ingrams with full ammo: getdualingram
TMP5 with full ammunition: getmp5
Colt Commando with full ammo: getcoltcommando
Jackhammer with full ammo: getjackhammer
M-79 with full ammunition: getm79
Sniper rifle with full ammo: getsniper
Molotov cocktail: getmolotov
Grenades: getgrenade
Pain killers are: getpainkillers
Full health: gethealth
More Blood: c_addhealth [number]
adjust the distance of a jump: jump [number]
Walk type of injury: setwoundedstate
Walk normal setnormalstate

secrets in the game

End game a special way
Complete the game in death Arrival mode to view a particular end.
Complete the bonus
Completed in trrinh the "Detective" to unlock Hard Boiled and moving mode of a dead man.
Complete the game in this mode to the Dead On Arrival mode!
Mementos of the apartment
During play in where you are, you have to find a member of the brain in the apartment by your imagination, two people came up to the cleaning, external window lifts.
Kill them and jump down (in which the ledge, avoiding the loss of blood).
Run along the edge of the building until you hear a shotgun rang out from the others and one flipped out of the window.
Kill the cleaner in his apartment but do not go on, continue to travel along the buildings.
Steam a little longer and you will see a window open.
Mementos are in it.

The theme song
Play Piano with the body of it, Max will play the title song of his.
Poster kungfu in Part 1, Chapter 6.
Go through the house, which stands apart mona, go to the gym of the Mona looked around and you will find a poster of Max Payne Mod "Kung Fu" by Kenneth Yeung famous.
Defeating Vlad
When the battle begins.
Just equip your MP5 and view password-style shooting.
Look above the Vlad positioning.
You will see four wooden cylinders.
Shoot them and they will fall off.
Avoid dinamite of Vlad.
As you shoot the tube end, it will fall down to Vlad will leave your sight.
Look to the ceiling, you will see four wooden tubes even larger is blocking a huge wooden panels fell.
Run away from that position, the tube will fall.
Vlad will have to move through one side to avoid.
Then Vlad will be in control of you, equip any weapon you like to finish him.
Note: Watch out for his burning Molotov bombs.